Current Loans
Modern Living: Gio Ponti and the 20th Century Aesthetics of Design
Georgia Museum of Art
June 10–September 17, 2017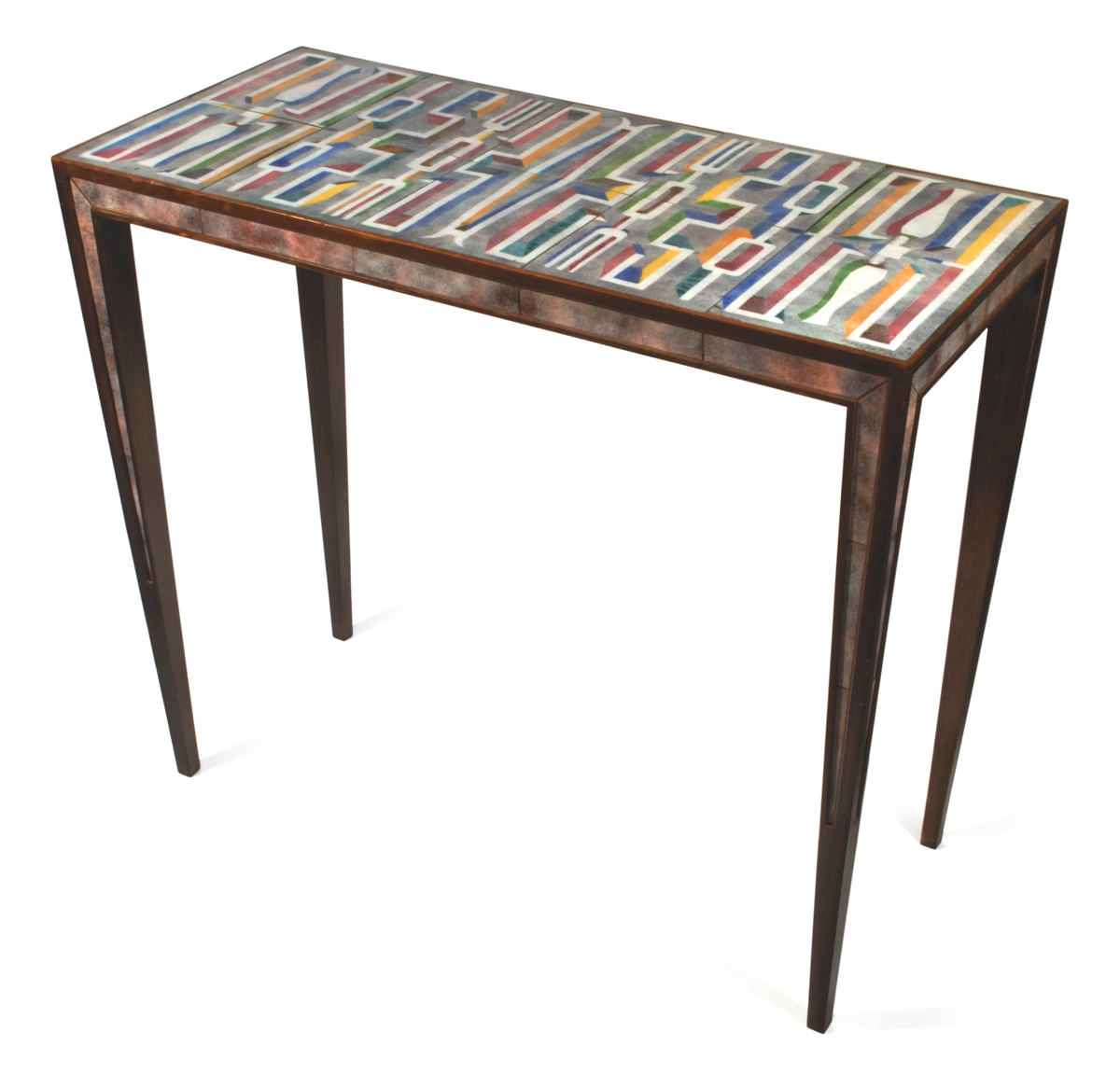 Kirkland Museum is loaning Gio Ponti's 1941 Tiled Console Table to the exhibition.
Over the span of a remarkably prolific career of nearly 60 years, Ponti (1891-1979, Italian) created important works of architecture (including the first skyscraper in Italy), furniture, decorative art and industrial products, using both traditional and modern materials and techniques. He designed the North Building of the Denver Art Museum, and was the father of modern Italian design. This exhibition will present more than 50 objects, representing some of Ponti's most outstanding pieces of furniture and decorative objects from the beginning of his career in the 1920s through the 1950s, borrowed from American museums and private collections.
---
Modern Dutch Design
The Wolfsonian–FIU, 1001 Washington Avenue, Miami Beach, Florida
November 18, 2016–June 11, 2017
Kirkland Museum is loaning two chairs by Gerrit Rieveld, the Zig Zag Chair and the Red/Blue Armchair (pictured above), to the exhibition.
During the period 1890–1940, the Netherlands built a reputation—which it still holds today—as a center for innovative design. In addition to loans such as ours, Modern Dutch Design draws from The Wolfsonian's extensive collection of Dutch furniture, decorative arts, design drawings, posters and bookbindings, in order to examine the evolution of design in the Netherlands during these decades. The exhibition focuses on how Dutch designers, architects, and artists responded to radical shifts in social and political life, worked to promote international travel and trade, and found inspiration in the cultures of the country's overseas colonies, as they developed a succession of unique styles. A catalog is available for purchase.
---
Kirkland Museum as a Lending Institution
(Loans of art works to 105 institutions, since 1976, when Hugh Grant became curator):
Many of these organizations have borrowed several times from Kirkland Museum. This is one of three ways Kirkland Museum gains exposure of Colorado art and international decorative art, along with getting it published and exhibited—keeping Colorado and regional artists, in addition to decorative art, displayed at Kirkland Museum.
Colorado (56 institutions in 18 cities and towns):
Arvada Center for the Arts and Humanities, Arvada
The Aspen Institute (loaned to both galleries at different times: Aspen Institute Gallery in the Paepcke Memorial Building; The Resnick Gallery at the Doerr-Hosier Center)
Aspen Art Museum, Aspen
Aurora History Museum, Aurora
Boettcher Concert Hall, Denver Performing Arts Complex
Boulder Museum of Contemporary Art (also gave exhibition at the formerly named Boulder Center for the Visual Arts in 1985), Boulder
Byers-Evans House Museum, Denver
Center for Visual Art, Metropolitan State University of Denver
Central City Opera, Central City
Century Bank, Denver (3 exhibitions)
Cheyenne Mountain Heritage Center, Colorado Springs (Charles Bunnell exhibition)
Colorado Art Expo, Denver
Colorado Ballet, Denver
Colorado College, Colorado Springs
Colorado Springs Fine Arts Center, Colorado Springs
Colorado State University, Fort Collins
David Cook Galleries, Denver (event supporting The Birger Sandzén Memorial Gallery, of Lindsborg, Kansas)
Denver Art Museum
Denver Center Theatre, Denver Center for the Performing Arts
Denver Chamber of Commerce
Denver City Attorney's Office
Denver International Airport—Terminal A Concourse Bridge
Denver International Airport—Airport Executive Offices (lobby)
Denver Mayor's Office
Denver Modernism Show
Denver Museum of Nature and Science (Gates Planetarium)
Denver Office: Special Assistant to the Mayor
Denver Office: Chief Operating Officer (Denver City & County)
Denver Public Library
Ellie Caulkins Opera House, Denver Performing Arts Complex
El Pomar Carriage Museum, Colorado Springs
Emmanuel Gallery (Auraria College Campus), Denver
Fiske Planetarium, Boulder
Foothills Art Center, Golden
Fort Collins Museum of Art (formerly the Fort Collins Museum of Contemporary Art), Fort Collins
Fort Lewis College, Durango (Center for Southwest Studies)
Fremont Center for the Arts, Cañon City
Friends of Red Rocks, Morrison
Gensler and Associates, Architects, Denver
Guarantee Bank, Denver (3 exhibitions)
History Colorado Center (formerly the Colorado History Museum), Denver
Lakewood Heritage Center, Lakewood
Loretto Heights College (since closed), Denver
Loveland Museum/Gallery, Loveland
Mizel Center for Arts and Culture (Singer Gallery, Denver)
Molly Brown House Museum, Denver
Museum of Contemporary Art—Denver (2006 Decades of Influence/Extended Remix, ten objects by Roger Lang and Jim and Nan McKinnell)
Park State Bank (part of the programs of The Teller Historic and Environmental Coalition [T.H.E. Coalition], Eichman Gallery), Woodland Park, west of Colorado Springs
RedLine, Denver
Rocky Mountain College of Art + Design, Denver
Rocky Mountain Depression Glass Society (2008 and 2009 shows at the Douglas County Event Center), Castle Rock
Sangre de Cristo Arts Center, Pueblo
The Sculptured House, Genesee (loaned for a national photo shoot and many non-profit benefit events over a few years; house now sold)
University of Colorado at Colorado Springs
University of Denver (Victoria H. Myhren Gallery; also to the School of Art & Art History for a Graduate Student Research Practicum)
Western Colorado Center for the Arts, Grand Junction
National (32 institutions in 20 states):
Alden B. Dow Museum of Science & Art (Midland Center for the Arts), Midland, Michigan
Alma Gallery, Lima, Ohio (traveling exhibition from the Ohio Arts Council)
Amarillo Art Center, Amarillo, Texas
Birger Sandzén Memorial Gallery, Lindsborg, Kansas
Boise Art Museum, Boise, Idaho
Columbia Museum of Art, Columbia, South Carolina
Columbus Museum of Art, Columbus, Ohio
Dallas Museum of Art, Dallas, Texas
Danish Immigrant Museum, Elk Horn, Iowa (Two chairs by Finn Juhl and Verner Panton and a chair and ottoman by Arne Jacobsen; may travel to the Nordic Heritage Museum, Seattle and others)
Fred Jones Jr. Museum of Art, Norman, Oklahoma
Gibbes Museum of Art, Charleston, South Carolina
Hamilton College, Clinton, New York
The Museum of Fine Arts, Houston, Texas
Illinois State University, Normal, Illinois
Longview Art Center, Longview, Texas
Los Angeles County Museum of Art, Los Angeles, California
McFall Center Gallery, Bowling Green State University, Bowling Green, Ohio (traveling exhibition from the Ohio Arts Council)
Milwaukee Art Museum, Milwaukee, Wisconsin (Two ceramics by Grete H. L. Marks)
Naples Museum of Art, Naples, Florida
Northeastern University, Boston, Massachusetts
Oklahoma Arts Center, Oklahoma City, Oklahoma
Portland Museum of Art, Portland, Maine
Edward W. Root Art Center (now closed), Hamilton College, Clinton, New York
Saint-Gaudens National Historic Site, Cornish, New Hampshire
San Francisco Museum of Modern Art, San Francisco, California
Santa Fe Arts Festival, Sweeney Center, Santa Fe, New Mexico
Seattle Art Museum, Seattle, Washington
Smithsonian American Art Museum (formerly the National Collection of Fine Art), Washington, D.C.
Toledo Edison Building Gallery, Toledo, Ohio (traveling exhibition from the Ohio Arts Council)
University of Hawaii, Manoa, Hawaii
Washington State University, Pullman, Washington (Jim Olson chair for Jim Olson Architecture for Art, September 30–December 10, 2011)
Whatcom Museum, Bellingham, Washington (Jim Olson chair for Jim Olson Architecture for Art, March 9–June 9, 2013)
International (17 institutions in 11 foreign countries, not including United States listed above):
The Czech Museum of Fine Arts, Prague, Czech Republic
Fondazione Mudima, Milano, Italy
Frankfurter Kunstverein, Frankfurt, Germany
Glenbow-Alberta Institute, Calgary, Alberta, Canada
Kiscelli Múzeum, Budapest, Hungary
Latvian Foreign Art Museum, Riga, Latvia
McMichael Canadian Art Collection, Kleinburg, Ontario, Canada
Museum of Fine Arts, Budapest, Hungary
Museum of Modern Art, Vienna, Austria
National Museum, Warsaw, Poland
National Museum of Art of Lithuania, Kaunas
Sala Parpalló Museum Complex, Valencia, Spain
Stadtmuseum, Düsseldorf, Germany
The State Gallery of Art of Poland, Sopot/Gdansk, Poland
The State Russian Museum, Marble Palace, St. Petersburg, Russia
U.S. Embassy, Vienna, Austria
Vancouver Art Gallery, British Columbia, Canada